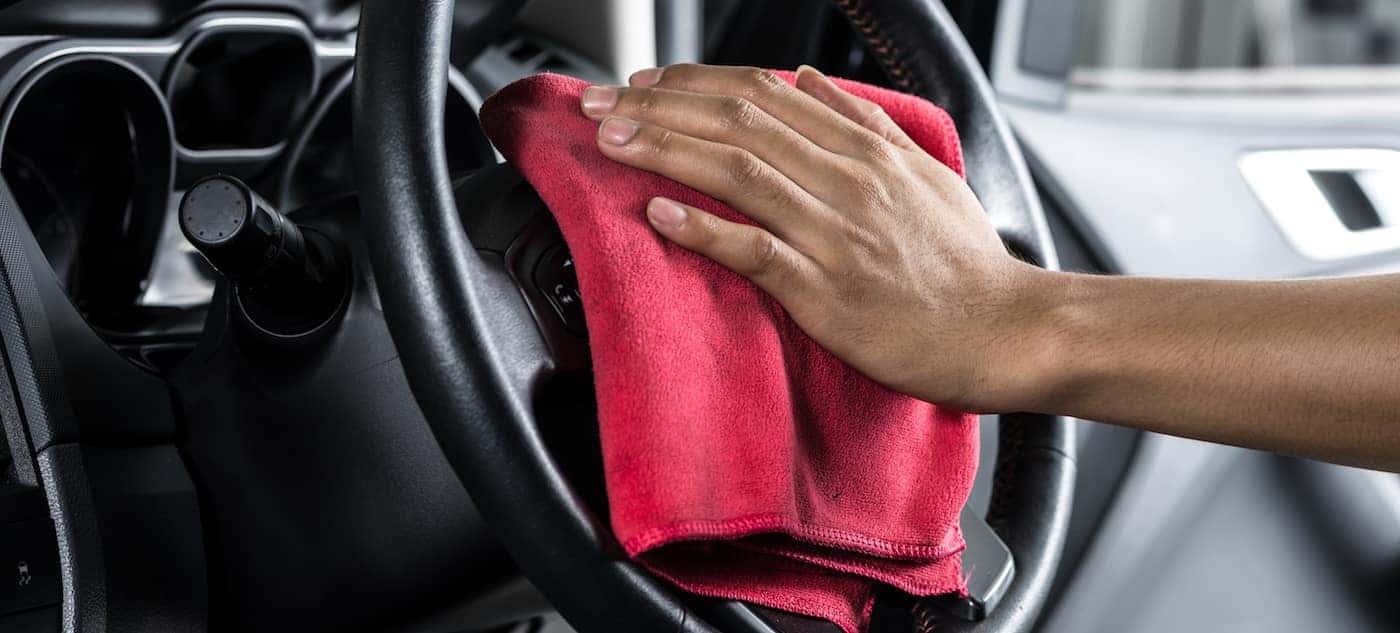 Alexander Dodge Chrysler Jeep RAM cares about its customers long after they drive off the lot in one of our new or used vehicles. At times like these, Gadsden drivers need to sanitize their car as they would their home. Driving to the grocery store is necessary, but if you're like most Huntsville drivers, you're worried about bringing germs home with you. Lessen the risk by sanitizing your car every time you go out. Our car experts at Alexander Dodge Chrysler Jeep RAM will give you the tools and tips you need for how to sanitize your car.
---
---
How to Keep You & Your Passengers Safe On the Road
Help your community stop the spread of infectious disease by practicing personal hygiene practices at home and in public. Keep the surfaces in your car sanitized to prevent the spread of Coronavirus. See below for more ways you can stop the spread:
The most important thing to remember is your face mask. Stay updated on the latest recommendations by health officials to keep your family safe in public.
Wash your hands thoroughly when you come home. The hotter the water, the better.
Bring a travel bottle of hand sanitizer with you wherever you go for an extra layer of protection.
Protip: Don't leave a large pump bottle in your hot car because extreme temperatures will cause it to explode.
Proper Car Sanitizer Materials to Dispel Coronavirus Germs
Using proper sanitizing products is important to ensure that you eliminate germs from the surfaces of your vehicle. Use disinfectant wipes to clean the handles, dashboard, and the steering wheel whenever you get behind the wheel of your car. Do it again when you're home, so you don't bring any germs into the house with you.
You can also use cleaning products such as soap and water and hydrogen peroxide. However, be careful not to rub these cleaning products into the materials of your interior as they can cause damage to the quality of leather and vinyl.
 How to Sanitize Your Car For a Deep Clean
To properly sanitize your car, focus on the areas that are most often touched as they come into contact with germs more often. For a deep clean that will keep your family safe, start by sanitizing the following:
Steering wheel
Control buttons for navigation, air conditioning, etc.
Paddle shift levers
Gear selector lever
Turn indicator stalks
Console armrests
Display screens
Cupholders
Cubbyholes
Air conditioner vents
Door handles
Learn More Tips on How to Sanitize Your Car at Alexander Dodge Chrysler Jeep RAM
How you sanitize your car will lessen the risk of contracting an infectious disease like Coronavirus. Start by wiping down the most commonly touched surfaces in your vehicle and then move on to other areas that need to be cleaned. Contact us for more information on how we're responding to COVID-19 or for questions about purchasing a vehicle during the lockdown. If you're in the market for a new car, you don't have to wait to drive home. Or if your vehicle isn't being used as frequently,  learn how to keep your unused car healthy from our service staff Alexander Dodge Chrysler Jeep RAM.